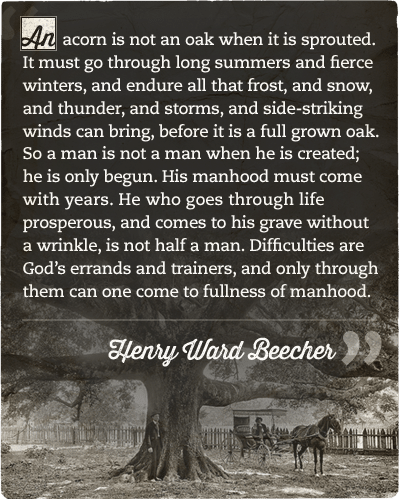 "You have to be a man before you can be a gentleman."
- John Wayne
What makes a real man? What characteristics about a guy make him a man and no longer a boy?
This post was written in hopes of encouraging young women to not lower their standards in a world where so few true men exist, and to challenge guys to be the men they're called to be and that this world is in dire need of.
I could use many words to describe a man. A man worthy of respect. Chivalrous, courageous, fun to be around, wise, loyal, passionate, strong, gentle, kind, visionary, serving, humble, hard-working, defender of truth, bold, prayerful, and faithful. These are just a few that come to mind. (1 Thessalonians 5:16, Proverbs 2:1-10, Proverbs 19:22, 2 Thessalonians 3:10-12, Proverbs 19:11)
Being a man isn't just about opening doors and being polite. That should go without saying. It's about putting someone else's needs above your own. It's about doing what's right even if you won't get recognition for it. Some of you may think that being a man is about how he acts or how he handles situations, but really it's not what they can do that defines them. It's about what Jesus did for them.
1. A boy becomes a man when he lets go of his life and gives it to God. The strength to be able to put Jesus first above everything isn't easy because a boy wants to feel in control, but a man knows what humility is and that on his own strength, he won't accomplish what he could if he let go and let God. Everyday is a battle to fight for being a man, to put God first, and lay down your dreams.
2. A boy becomes a man when he is responsible and mature enough to perform a task and to be able to be depended on to do a job - no matter how difficult.
3. A boy becomes a man when he has direction and goals. A guy who sits in front of video games all day or goes to college without having any vision for his life or in pursuit of a career is never attractive. Women need men who are leaders, who are responsible, who have dreams and are willing to go after those dreams. He must be faithful and responsible in the pursuit of his calling.
4. A boy becomes a man when he is humble in owning up to his mistakes, knows he's not perfect and even though he may be well-established, have many mentors, and good visions, he must be willing to be corrected. Humility is part of accepting God's will for his life too. And going after it whole-heartedly.
These are not the typical guys that get noticed right away. But when they are noticed, they are to be admired and respected. They are the ones who go to the person looking left out of the party and introduce themselves with a handshake and smile. They are the ones who you will find at home investing time in their family instead of hanging out with friends every weekend. You will find them helping in the kitchen, taking out the trash, and doing the dishes without being asked. They will be the ones having deep discussions about theology, politics, worldview philosophies and books, rather than girls, TV or the latest computer game. These are the guys who walk on the outside of the sidewalk to protect the lady whom they might be with. These men do not bend on their convictions, they hold firm to their standards and no matter what others may say or do, they stand for the truth.
Being a man is a process, not a one day event.
'Stand true to your calling to be a man. Real women will always be relieved and grateful when men are willing to be men.'
'One cannot always be a hero, but one can always be a man.'
- Johann Wolfgang Van Goethe
"There is a difference between being a good man and being good at being a man."
"A man must at times be hard as nails: willing to face up to the truth about himself, and about the woman he loves, refusing compromise when compromise is wrong. But he must also be tender. No weapon will breach the armor of a woman's resentment like tenderness."